Santa Claus for hire – Commercials / TV – St Petersburg
Santa Claus Actor Commercials and Television
Chick Fil A Santa
Santa Ken made appearances at Chick Fil A in Massachusetts and packed the house! When Santa Ken is scheduled for an event, he can provide custom photographs with your brand presence obvious in the images. These photos in conjunction with your Marketing and Promotion will ensure success. When Santa Ken performs, guests come early, spend more, stay longer and bring others. When they post on their own social media the original business lift is extended for weeks and months to come.
.
Blizzard Beach Tik Tok Santa
Hire Santa Ken for your Commercials and Television Needs. Currently, Santa Ken has over 30,000 views on Tik Tok at Walt Disney Worlds Blizzard Beach for a summer promotion series in the summer of 2021.
Comments regarding Santa Ken from the fully engaged social audience include things like;
"I can't stop watching Summer Santa fly by on his bike!"
"Omg this made me legit made me laugh out loud! We Love you Santa!"
"What a great SANTA! MORE SANTA PLEASE!"
"Best Santa ever #SummerSanta
https://vm.tiktok.com/ZMd4wxA6Y/
https://vm.tiktok.com/ZMdqAca63/

Pedego Electric Bikes Santa. HELLO FUN!
Santa Ken has had many positive experiences with Pedego. He is not only an owner and daily Pedego Rider, but he uses his Pedego Bike for appearances to make a Grand Entrance!
Hire Santa Ken for your Appearances, Promotions, and Social Media target Sales.
Santa Claus was in town at Pedego Electric Bikes Aiken
July 25th, 11:03 AM EDT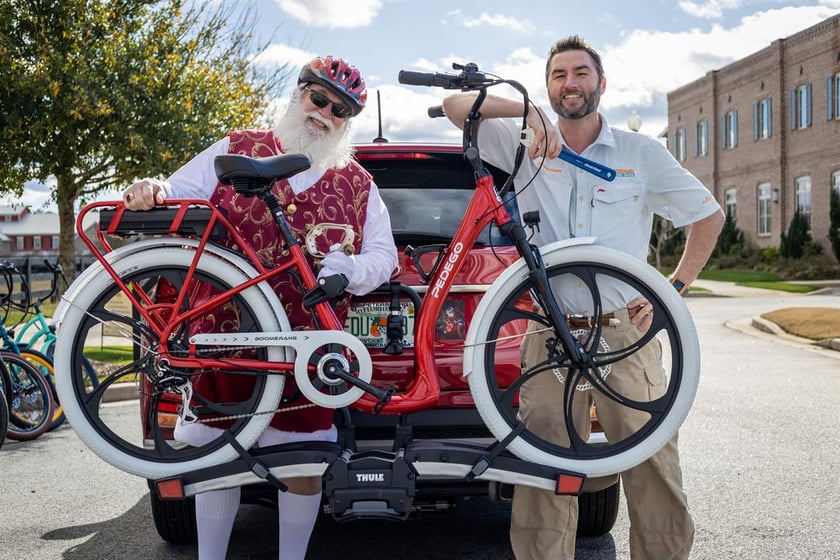 Santa Ken with Pedego Electric Bikes shop manager Freeman Coleman
Dustin Turner
AIKEN, SC – Pedego Electric Bikes shop manager Freeman Coleman got quite a surprise recently when he saw Santa Claus come in the store.
Santa was in Aiken on business when he spotted the Pedego Electric Bikes store. He had owned a Pedego in the past but sold it, a decision he quickly regretted.
Santa, also known as Ken Debelius, is a real Santa based in Sutton, Mass., and goes by Santa Ken. It is no wonder he was in character even in July, albeit in fetching fur-trimmed red shorts.  
"Everyone gets older," Santa said, explaining the attraction of an electric bike. "Truthfully, Mrs. Claus works out, and I just couldn't keep up with her when we'd go bike riding. The Christmas Spirit in that motor pulls me right on up any hill."
After a couple of test rides and a long talk with Coleman about how to make the ultimate Pedego bike for Santa, he purchased the bike to take home with him.
"We got Santa a red Boomerang," Coleman said. "We added front shocks, white fenders and tires, magnesium wheels and hydraulic brakes."
Coleman's help put him on the Permanent Nice list, Santa said. "He customized it for me, and it's just beautiful. That peppermint red color with the white wheels and he even put better brakes on it, because Santa needs to stop at the bottom of those hills."
So, the question remains, why come all the way to Aiken for a bike?
"Well, South Carolina has the same initials I do – SC," Santa said with a laugh. "Besides, nobody has more fun than Santa, and there's no bike in the history of bikes that's more fun that a Pedego."

For more information about Santa Ken's availability call or text
(443) 253-5436

or click here to fill in the form on the Contact Page
Please contact us for a personalized quote for your event.
Santa Ken is a Real Bearded Santa Claus for hire serving St Petersburg, Tierra Verde, Pass a Grille, St Pete Beach, Sarasota, Clearwater, Tampa, Bradenton, Gulfport, Madera Beach, Isla Del So, and all surrounding areas.